A key feature that makes Dental Focus masters in website design and production, as opposed to another web marketing company, is that we focus on compliance with the GDC, CQC and ICO regulations, allowing our clients peace of mind.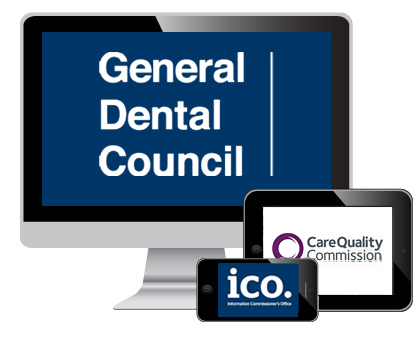 "Dental Focus had a great understanding of what we needed. Their adherence to 'best practice' and 'compliance', ensured my site met with all the ICO and GDC requirements." Gordon Philp, Edinburgh Dental Specialists
We are specialised team so at every step of design and production of new websites we know what to look out for and the key boxes to tick in design. Then after launch with our customer service plan (CSP) we remain here to help and advise, in order to keep your websites maintained, and stress free. Our goal is to take a potentially frustrating task and make it very easy and manageable, allowing our dentists to concentrate on dentistry.
At Dental Focus we have kept compliance simple and focused, so below are our interpretation of the UK Compliance and Implementing Requirements, in relation to the websites we can help you with:
GDC (General Dental Council)
• Practice Name + Address, Email, Phone
• All professionals with job titles and GDC numbers.
• Qualification title, qualifying year and awarding country
• Date of Last Update
• Link to GDC Website
• Patient anonymity on social media unless explicit consent for social media
• Encryption of confidential data (effective from 30th September 2013)
CQC (Care Quality Commission)
• Opening hours
• Emergency contact details
• Complaints procedure (Feedback)
• Disability needs
ICO (Information Commissioners Office)
• Data protection registration
• Privacy policy
• Secure communication
"The website is the first thing that the CQC checked. Thanks to Dental Focus we had it covered right from the start. This peace of mind is priceless."
Manny Vasant MBE, Dr M K Vasant and Associates