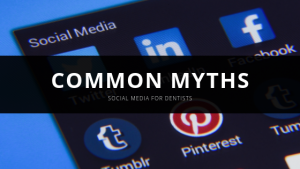 Social Media has huge benefits for your practice and brand, from growing your community to keeping your patients in the loop of the latest news and events in the practice. At Dental Focus we provide affordable social media plans and would like to highlight some of the common myths we often hear about social media.
Myth #1 : Social Media is free.
Social media is not free. Using the Facebook or Instagram platforms are free in the sense there are no subscription or initial cost to join them, but think of all the internal cost spent on the labour you'll need to setup, optimise, run and manage the platforms from content generation to regular activity.
Within the practice it is often all hands on deck and managing the social media account either becomes an afterthought, sporadically adding posts from time to time or left completely neglected. Our social media for dentists plan helps free up your staff and leave the posting to the experts. We have proven strategies in place, that we know will help grow your community and portray your business in the best light.
Myth #2 : More Likes = More Success.
Social media platforms encourage page likes and follows, and are often a vanity number for dentists who feel that if their local competition have more likes and follows they are falling behind. At Dental Focus our social media plan focuses on growing and creating a community of real local followers and existing patients. It's better to have a smaller number of raving fans than a large number of likes/follows that are bots and people overseas who will never become a patient.
Myth #3 : Social media will generate leads for your business.
Many dentists think the no.1 reason to run social media is return on investment, and increasing enquiries from a marketplace of potential patients. The truth is that people on social media are often not in the mindset of 'looking for a dentist' they are browsing through, keeping up with friends and family and sharing opinions.
What's the bottom line? Social media is a great way to build awareness for your practices brand, and an excellent way to build relationship with your existing patients. By creating content your existing patients like and share creates an online word of mouth endorsement of your services.
Why is this a benefit? When these friends and family of your patients are at a stage where they are 'looking for a dentist' or a specific treatment your regular engaging activity has left its mark with them and increases the change of them getting in touch and to start sharing and liking your content.
Would you like to talk to us about Social Media for Dentists?
Book a FREE chat with Dom – our Social Media Guru
CALL: 020 7183 8388