Welcome to this week's article on Wonderful Websites Weekly. There is a great variety of dental websites designed to turn heads and stay with people long after they have clicked off.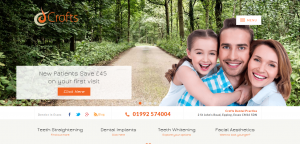 http://www.croftsdental.co.uk/
Crofts Dental Practice is a private dental practice, situated in Epping, Essex. With state of the art facilities and equipment, the highly trained staff are equipped to offer you quality, bespoke dental services, at affordable prices. Crofts Dental practice has been serving patients from Essex, Hertfordshire and London for over 30 years, establishing close ties with the local community. Recent renovations and upgrades offer quality and comfortable surroundings, while keeping Crofts Dental Practice at the forefront of modern dentistry.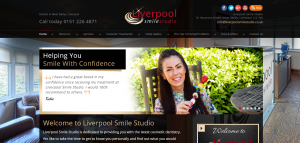 http://www.liverpoolsmilestudio.co.uk/
Liverpool Smile Studio is dedicated to providing you with the latest cosmetic dentistry. They like to take the time to get to know you personally and find out what you would really like in terms of your dental care. Their highly trained dental team will provide a wide range of options in an atmosphere that is friendly, supportive and relaxed. They value each patient as an individual and, if you are at all nervous, we will always give you extra time and reassurance.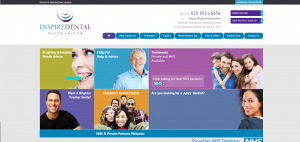 http://www.inspiredentalwalthamstow.co.uk/
At Inspire Dental Walthamstow they offer you the best of both worlds – traditional NHS dental treatments and the option of affordable Private Cosmetic Dental Treatments focusing on improving your smile. Their wide choice of treatments means they can help you to maintain healthy teeth and enhance your smile. Their highly skilled team is committed to delivering consistent quality dental services of the highest standards in a modern, relaxed and friendly environment. Love your smile!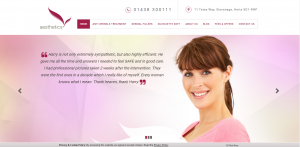 http://www.aesthetics-dentistry.com/
At aesthetics facial rejuvenation clinic they can offer you a variety of facial rejuvenation services which can give you that smoother, younger looking face. When determining true aesthetics the entire face must be considered, and they believe in creating natural rejuvenation without the need of surgical intervention. Dr Harry Singh is fully trained in all elements of assessing the right programme and treatment for you to give you the best possible result.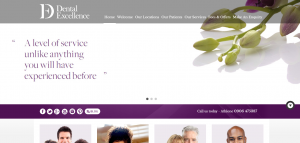 http://www.dentalexcellence.ie/
Their knowledge and expertise in cosmetic and general dentistry is second to none. Their dentists and dental technicians offer the highest clinical care and ensure patient care is at the forefront of everything we do. They have built their business on trust and reputation. They pride themselves on providing exceptional and personalised care for each and every patient. They are focused on understanding the needs of our patients and providing effective dental care, every step of the way. Every patient we care for trusts them.
Come back next week to see has made our Wonderful Websites Weekly!