Hi I'm Jordan, a Senior Marketing Strategist with Dental Focus, and I'm here to help with your Website Developments and Creations, Search Engine Optimisation, Social Media Plans and to help your practice attract new patients, as well as compliant with the GDC, CQC and ICO Regulations.
Originally from South West Wales, I graduated from Cardiff Metropolitan University with BSc Honors Degree in Product Design. After travelling for a few months after graduation I settled in Seoul, South Korea as an English Language Instructor for three years. Here I began travel blogging and my passion and interest for website design and the digital marketing industry grew.
Areas of focus:
Website Previews and Creations
Website Updates, Upgrades and Developments
Search Engine Optimisation and Social Media Services
Building a trustworthy working relationship with you.
Offering guidance to make your website attractive to new patients and current patients.
Out of the office I enjoy spending time catching up with family and friends, as well as learning about new cultures, places of interest and planning my next travel adventure.

Well what a exceptionally interesting journey. Treatment planning for dentists is what dental focus does for you. Right from the initial conversation with Krishan to the follow up and subsequent design process undertaken by Jordan, it's been very enjoyable experience. It's triggered a renewed interest in dentistry. Jordan B was exceptionally professional, dedicated and very patient in the design process. Thanks Jordan. You truly are the best!! I can't recommend this team highly enough. Many thanks for your assistance, expertise and professionalism.

Presh Mulay

Thank you Jordan and Krishan

Couldn't recommend this group highly enough. They have genuinely worked extremely hard and Jordan put many hours of work in in designing our new website with attention to detail, providing advice on where we could improve and designing a stunning website.

Thank you team Dental Focus from the entire team at Centre Of Dental Excellence.

Kushal Gadhia


Jordan is always extremely efficient and accommodating. Communication with him was excellent and we are very pleased with the result. We feel like they do care about the clients.

Thank you.

Ilhea Rhee
Bounty Road Dental

Worked with Dental Focus for several years now, and always been pleased with their professionalism, efficiency and advice on promoting our business. Jordan has recently modified our existing website to create new content in an eye-catching yet cost-effective manner.

Thank you.

Richards Lishman

We have been clients of Dental Focus for over 10 years and have always received an excellent service.

We recently requested the addition of a button to facilitate online appointment booking. Jordan Beynon successfully upgraded our website with this feature in a matter of days at reasonable cost and we are genuinely thrilled with the result.

I would not hesitate to recommend Dental Focus to any dental practice looking for an outstanding website and fantastic long term customer support.

Ralph Bayliss

Very good experience, really happy with our new web site and special thanks to Jordan, Krishan and the team for the work they have put in and continue to do since it's launch.

Damien McLaughlin

Jordan and the team at Dental Focus have been amazing. Their expertise in the Dental sector is second to none and since I moved to Dental Focus the difference in terms of lead generation and new business has been incredible. They are very proactive and react quickly to market changes as well as always coming up with new ideas. Dental Focus really are No1 in the business!

Graham Tinkler

Dental Focus have just finished a second website for us for our Direct Access Hygienists. From the start they exceeded all our expectations. Naz was extremely helpful initially talking through our options. Jordan, our Website Manager, showed great expertise in producing a fantastic site for us. He was patient when we wanted changes and made sure that we were totally happy before it went live. Robyn was very efficient setting up a new email address. I highly recommend Dental Focus to any dental colleague looking for a professional and attractive website.

Amanda Biddle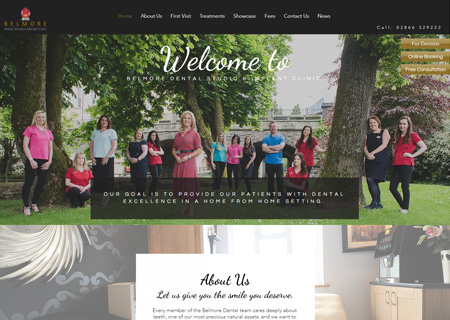 Yet another amazing website from Dental Focus!!.

This is the second time round we have used them and they have been amazing throughout. We worked with Jordan Beynon and we could not have had a better designer!! Nothing was ever a problem and no matter what we needed Jordan found a way for us. I cant recommend Dental Focus highly enough.

Sinead McEnhill
‹

Back to Award Winning Team