My review of James Goolnik's new book "Brush: proven strategies to make you and your dental business shine". Never seen before, exclusive videos and photos of James signing his book for me at the Dentistry Show 2011. Exclusive competition: how many times do I chew my Wrigley's Spearmint gum in the two videos? Facebook me for the chance to win a free website, scroll down and read on!
For the last 10 years, I've just read and watched the Internet. I enjoy learning through visual and audio, videos and lectures, articles and practical lessons. For me, reading a book is uncomfortable. It probably stems from my teenage years when my dad constantly told me to "Get off the Internet and go read a book!"
Before "Brush", the last book I read cover to cover was a decade ago and it was fully practical, it was all about closeup and card magic. I could apply every single sentence, just like when I read my first book on HTML programming.
As fate has it, I am now the proud owner of the 1st official copy of James Goolnik's "Brush" which I happily overpaid for since all the profits go to charity. James, hey, what a nice guy?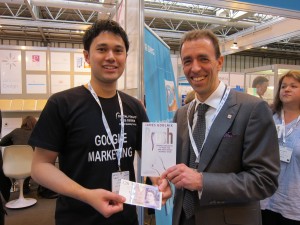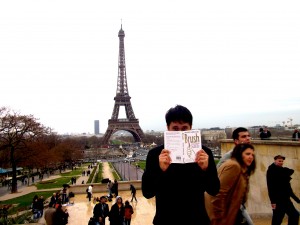 Photos Above: Buying the 1st copy of "Brush" and taking "Brush" to Paris
Having been invited to lecture with James Goolnik before at the American Academy of Cosmetic Dentistry (AACD) conference, I was totally excited the moment he offered to sign my copy. Never before had an author taken his own pen to my book (what book?). Empowered with my admiration for James and my wish to support him, I was determined to finish this book and learn the secrets to his success. I carried this treasure chest with me wherever I went including to Paris, completing his penultimate chapter on the Eiffel Tower (there's nothing to see up there but buildings).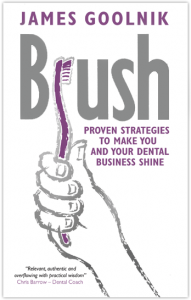 My client and friend, Chris Barrow, said "Brush" was "Relevant, authentic and overflowing with practical wisdom". That's even printed on the front cover. So what do I think of "Brush"?
The first two chapters were incredibly practical. Any dentist that is thinking of setting up a practice, especially their first, should read this book. James kindly helps you know how to pick the right location, know the competition, know the potential, what is lacking and in demand, and most importantly how to stay on top of your cash flow when starting up. Amazingly essential.
I loved chapters 3-4 which really got me thinking about my own business. James gives a brilliant insight into the importance of relationships and meetings. Further chapters are full of tips on how to recruit the right team and how to get the best out of them too.
The book is packed full of great dental marketing secrets covering all aspects of traditional offline methods to advanced Web 2.0 online strategies. James explores thought provoking trends in clinical dentistry and the deep involvement of computerisation, the Internet and technology in dental practice.
I know James personally. He has always come across as gentle, charming and down-to-earth trustworthy. Always smiling and approachable. You can see his personal touch really shining through. All of this and a willingness to share his experiences is what inspires me.
Some of the best points that I have learnt from James are his definitions of a "brand" and a "leader". Find those in this book and don't forget them. Other jems that will now shape the rest of my life are his invaluable thoughts on meetings, delegation and checklists.
Thank you James for taking the time to get me reading books again!
Buy the book via Amazon. Visit www.jamesgoolnik.com
Krishan Joshi is "the Master" at Dental Focus Web Design.

Become his friend on Facebook – www.facebook.com/DentalFocusWebsites

Remember to subscribe to our Blog of Secrets so you can get the latest dental marketing ideas and video tips immediately by e-mail.

If you would like some free advice, Email Us or call 020 7183 8388.