Dental Focus Case Study: Phillip Greene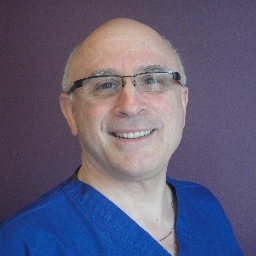 Dental Focus ® 'Websites for your profit' case study: www.effectiveperio.co.uk
With a career spanning over 40 years, Philip Greene is a Specialist in Periodontics, and is serving President of the British Society of Periodontology. He works at The Malt House Specialist Dental Centre in Manchester – a well-established practice in a thriving community – and is well known to patients and clinicians alike. Though his practices is marketed on the corporate side by James Hull Associates, in 2003, Philip decided he wanted to create a website that marketed both his practice and his medico-legal work in one single, easy-to-find location.
'I've had a website for somewhere in the region of 10 years or so now,' says Philip. 'Though I have changed my web design company in that time. I had known Krishan Joshi from Dental Focus ® on and off for a number of years. I first met him through his father Vinod, who was a consultant in restorative dentistry in Yorkshire. I then came upon Krishan again at The Dentistry Show a few years ago where he gave an excellent talk on dental online marketing. I was very impressed with what he had to say so contacted him and asked him to design a new website for me.
'Before I saw his talk I really didn't think I needed a new website. I thought the one I had was ok – it was designed by an internet marketing "expert" after all – but I never really got any contacts from it. I never received emails from people who had seen my website and wanted to consult me. Now I'm not quite sure what the reason for this was, whether it was down to my Google ranking or the design, but as soon as the Dental Focus ® site went live I started to get online queries almost straight away. It really did make a dramatic difference. I went from receiving almost no leads through my website to receiving several a month. This may not sound a lot in today's terms, but in the dental market it's quite good. Probably about half of these calls then convert into patients, which is very good for our type of practice. We're specialist practice with many years' experience and a good reputation, operating at the high end of the scale, so our fees are quite high and this doesn't suit everybody.'
At the heart of any successful website is its design. A good website design is neither cluttered, nor too sparse; it is easy on the eye and it fully reflects your business identity and the values you represent. For Philip, the design of his website www.effectiveperio.co.uk is one of its strengths, and he worked closely with the Dental Focus ® team to achieve what he believes is an excellent result.
'When it came to design I knew I wanted the site to promote my specialist Periodontal practice as well as my medico-legal practice,' continues Philip. 'I do a lot of cases as a dental expert witness so this side of my work is also very important to me. This created something of a challenge in the design process as I wanted to showcase my work on the legal side as well as my work as a clinician. On the legal side there are examples of my work, specimen reports as well as my terms of conditions. For the clinical side we have also included examples of treatments that I've done, as well as some links to other useful websites as well as a referral form for dentists.
'I have to say I am very pleased with the result. Adrian from Dental Focus ® worked with me quite closely on the colour scheme and achieving a "look" that found the right balance between my two roles. In our early designs the site was a much paler green, but I opted to go for a darker, richer colour. In the end I think we've achieved something that's quite lively and easy to read that's not too cluttered but has lots of information that is easy to find and navigate through. I like the way it looks, and patients seem to like it too – we often get a good response.
'In terms of my clinical practice, Malt House Specialist Dental Centre is part of the James Hull-Smiles Corporate Group. This means they do all the corporate marketing, but at the same time we also do some local marketing with the practice ourselves. For example we've always had a practice newsletter (even before we were with James Hull) that we release a few times a year just to all dentists on our referrers database to remind them that we're still around, show them what we can do, give them practice news and so on. The website is an extra part of that really.'
As Philip is keen to emphasise, having a website in this day an age is an absolute must:
'It's interesting,' continues Philip, 'If a patient comes to me and tells me about their dentist I normally go online and have a look for that dentist to find a little bit about them. If they don't have a website I can't find out anything about them. I think a lot of people do this. If you want to establish yourself as a modern, up-to-date organisation of any kind you really need a website. It's your shop window after all. If you haven't got that then you're already in the "second division" in many people's minds.
'In this day and age you really do have to be on top of all these things. Thankfully I found Dental Focus ® and have found them to be a professional team of people who always listen closely to what I have to say and work with me to achieve the best results. In fact we're currently in the process of optimising my website for mobile devices. Nowadays an increasing number of people surf the web from mobile phones or tablets. A big website takes a while to load on these devices and isn't very easy to navigate on a small screen. As such we're now working on an optimised "mobile" version of my website for patients and clients who find my website that way. In these competitive times, it really does pay to work with an excellent team of web designers and online marketers you can rely on to provide excellent results!'
For more information call 020 7183 8388, or visit www.dental-focus.com
---