Dental Marketing with Yellow Pages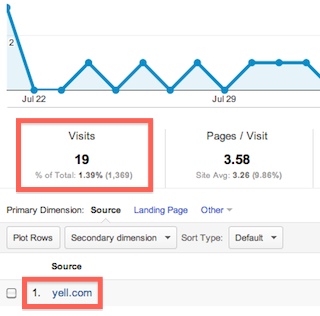 I hope you're talking about your website. If you don't, who will?
Now here's something to Yell about…
Yellow Pages could be making you and your practice foolishly waste £250k pro rata every year.
Everyday, I'm being asked "Should we renew with Yellow Pages because the sales rep is here and we've always advertised for the past 5, 10, 15 years…"
I am officially going on the record to publicly say: Do not waste money with Yell.com or Yellow Pages. Clients can't seem to get over the tradition of renewing and the sales force are blinding you with the most irrelevant statistics and lies.
If you want to see what a rip off any directory is, go to Google Analytics: Traffic Sources > Sources > Referrals ~ look for the directory name i.e. Yell and you'll see how many visits you got from that directory. Compare that to your total visits.
What do you get?
Across the board, analysing our portfolio of 500+ websites we have the unique insight to observe trends and Yell.com on average only accounts for a pathetic 2% of all your website traffic. If you think about how much you're spending (£5k?) for that measly 2%, pro rata that and ask yourself if you're investing the same marketing budget for the remaining 98% (£245k?), or even just 50% (£125k)?
I'm telling everyone to stop and 'say no' to Yell.
Please save your money or invest into your website design because in 2012 your website is still the centre of your entire marketing strategy but you can't look 2010.
Word-of-mouth is still the best ROI marketing tool to increase visitors to your website.
All you need to do is tell all your patients to share your website on Facebook. When patients say "Thank you", never reply "You're welcome". Instead instruct them, "The best way to thank me is to share my website on Facebook. Have you got a mobile? Do it now, or here's my iPad. Not on Facebook? Neither am I… but do you have email? Well, the best way to thank me is to email my website to your friends." Now imagine every single one of your patients talking about you to their 100+ friends (that's the power of Facebook) and your website Analytics shoot through the roof. If that happened for just 1 year, nearly everyone in your town would have seen your website… so you better have the perfect website.
At Dental Focus, we want to help create the perfect website for you, that makes you so damn proud that you want to tell everyone how to "Thank you". The 'dental focus' multiplier effect is phenomenal with this simple strategy. To build the Dental Focus Exclusive Website is all about our customer service and that requires us to steal the Yellow Pages budget and put it to better use. However, if you want my Knock 'Em Dead Offer (aka CB's 'KEDO') then create your own PracticeBox dental website from just £60+vat per month. Do-it-yourself at www.practicebox.com
What if you already have a website?
Priority #1. Make your homepage iPhone/iPad friendly. Otherwise you're losing patients with a blank website.
Priority #2. Get a Blog for your website and learn the difference between Blogging for Patients and Blogging for Google rankings. Content growth is now more important than ever.
Priority #3. Has it been 3 years already since you created your website, if so maybe it's time to get a new website or at least revamp? Get it reviewed.
Krishan Joshi is "the Master" at Dental Focus Web Design.

Become his friend on Facebook – www.facebook.com/DentalFocusWebsites

Remember to subscribe to the Dental Focus "Secrets" E-Newsletter so you can get the latest dental marketing ideas and video tips immediately by e-mail.

If you would like some free advice, Email Us or call 020 7183 8388.



---