Dental Mobile Websites
Now is the best time to have a Mobile Website. 
If you can only do one thing to boost your business, we suggest you get a Mobile Website immediately.
Here's the problem: 
Studying our own Google Analytics across hundreds of dental websites shows that on average 1 in 3 of your website visitors are now using a mobile. We predict this to rise towards 1 in 2 within 12 months.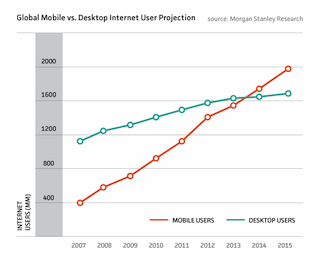 Morgan Stanley Research also says that by the end of this year, more people will use a mobile device to browse your website than a desktop computer.
Here's the bigger problem: 
· If a mobile user is not happy with your website, there is a 40% chance they will go visit a competitor.
· If a mobile user has a poor experience on your website, they are 57% less likely to recommend your business to others.
· 60% of mobile users expect your website to load in under 3 seconds.
How do we solve this problem? 
Now is the best time to have a fast-action website just for mobiles. Remember, smartphone users are on-the-go, and have a lower attention span for websites. Your website needs to auto-detect the patient is on a smartphone and then show your specially built mobile website which loads super quick and at the optimised size/resolution with just the right information. If your website is slow and has too much content, patients will want to skip you.
We have the perfect 6-Page Fast Action Mobile Website solution: 
* Home / Welcome
* Appointment Form
* Dentists & Team
* Treatments Menu
* Fees & Offers
* Testimonials
Including "click-to-call" telephone numbers and "click-to-find" addresses linking to Google maps for directions.
Call Alfie now on 07944267445 to get your Mobile Website launched in just 2 weeks.
---