Dentistry Live Exhibitors
Krishan Joshi is giving a talk at Dentistry Live, giving a LIVE demo on "Google Page 1 rankings in under 60 minutes". The majority of delegates believe he can do this and there was an overwhelming support in the LIVE sms survey.

The Dentistry LIVE exhibitors today include Dental Focus Web Design, Enlighten, Adec, Septodont and Practice Plan. The Business of Dentistry stand is featuring a range of business support and services to help practices run their businesses more effectively. BKH is launching their new BKH  Management Services which are bespoke for your dental business.
The LIVE result in under 60 mins: This blog post became #1 and #2 ~ double rankings ~ on Google Page 1 in less than one hour. That's the power of blogs. See the screen capture below.
Next time, we'll do a live demo for Google Page 1 rankings in less than 60 seconds. Hope you're there.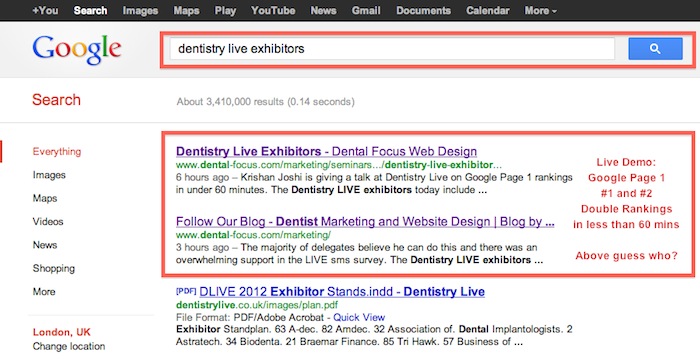 ---