Google Reviews, 5 Stars and Trip Advisor!

"Attracting new patients is always about trust,
first impressions and reinforcing trust…"
Have you read the latest Dental Focus Blog?
Discover why passing the "Google Mobile Friendly Test" is now the most important weighting factor in the Google Algorithm for predictable Advance Google Search Engine Optimisation (SEO) rankings. Google now expects 100% of the website to be optimised and responsive for mobile devices.
Click here to read the article by Krishan Joshi, CEO Dental Focus
Read on…
Creating Trust: 5 Star Google Reviews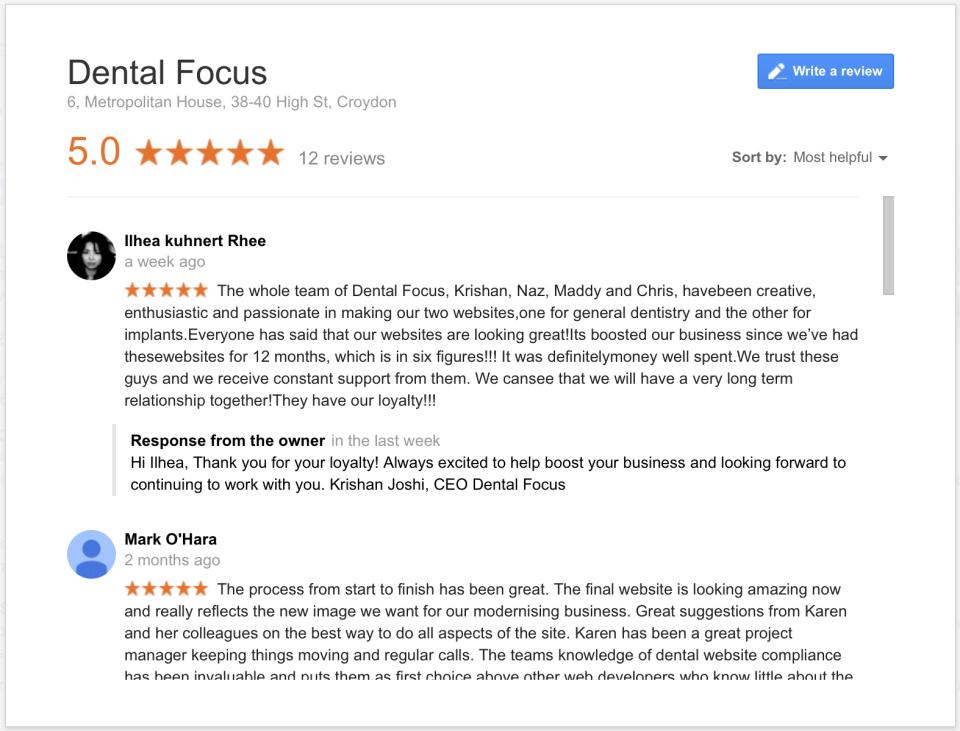 Several years ago, Google became the new Yellow Pages because it started showing local businesses on the maps right at the top of Google Page 1.
Today, Google is the new Trip Advisor because clients now see reviews and stars next to their local search results. It's no longer just about how high they rank on Google Page 1 but more importantly about how they stand out.
On average, patients are scrolling or swiping iPhones and iPads to look up and down Google Page 1, which is a mine field. All they see is blue, green and white. They don't know who to click on because 80% of the page is pretty much shouting back the same or similar keywords they typed into search.
Today, trust is built on Google Page 1. Clients couldn't have done this before. Now clients at Dental Focus are making it their Number One priority to have at least 5 reviews because they need at least 5 reviews for their stars to start showing next to their name and ranking.
Have you ever used Trip Advisor to help you decide on where to go for holiday or bought anything online, read the reviews and looked at the star ratings?
At Dental Focus, clients are now making sure they are "on track" with a daily system to have at least one 5 star review each week because they want to make sure that this time next year they have at least 50-100 5 star reviews next to their Google ranking. They want to make it a 'no-brainer' for patients to choose them on Google Page 1 because Google is the land of competition. They have no competition on their website, they literally own the entire retail space of the screen.
Clients who want patients to trust the words, testimonials, photos and videos on their website are making sure that they maximise the level of trust at first impression on Google Page 1 with over 30 5 star reviews.
What clients have realised is that when they reach 'critical mass', like 50-100 5 star reviews, nobody reads the Google reviews, they just see who stands out, who to trust and 'click' to visit the website.
Clients say that they grow their practice through word-of-mouth. When patients recommend them, their friends generally Google the 'name' of the practice instead of keywords. When clients have over 30 5 star reviews next to their name, it allows friends of patients to think 'my friend was right' because so many other people agree, strengthening word-of-mouth into a 'no brainer' and immediately reinforcing trust.
For more information, read the full article
by Krishan Joshi, CEO Dental Focus
I look forward to hearing from you!
---