How To Attract Dental Treatment Leads Worth 30K Per Month
In this article Chris Olson, Senior Marketing Consultant at Dental Focus, explores the return on investment from dental practice chatbots.
Are you looking for a way to attract more treatment leads on your dental website? If so, you should consider using the Dental Focus Chatbot. This chatbot is designed to help you connect with potential patients and increase your conversion rate.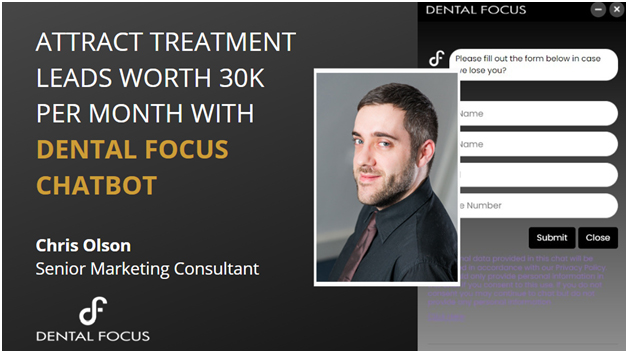 Why use Dental Focus Chatbot?
The Dental Focus Chatbot is an AI-powered chatbot that can help you engage with potential patients on your website. It can help to move them along their journey from "Research" mode into "Decision" mode by proactively encouraging them to book a consultation.
Whilst chatbots may not be for everyone, they do certainly appeal to many users – as they help provide automated customer service, something which can often be missing from a dental website.
How many leads will I get?
This will depend on a few factors, including the website, your Google rankings, and the area you are in. At Dental Focus, we recommend only using our chatbot if you are regularly receiving more than 700 visitors to your website each month. This is something we can check for you, if you are a Dental Focus client, using your Google Analytics.
One of our clients recently received 80+ genuine leads (where the patient provided all the relevant contact details) in the month of April. With interest specified for big-ticket treatments such as Invisalign, Dental Implants, and Veneers, it was estimated that this amounted to a potential £30,000 in Lead Value!
When taken into consideration that the client only paid £59 (inc VAT) for the Chatbot that month, it amounts to a staggering 508:1 potential return on investment.
The likelihood is that not all those leads will pan out, the amount will depend on your conversion rate within the practice (DM me if you need help with this). However, if only a fraction of those leads turns into paying customers, the treatment value, not to mention the lifetime value of those patients, could be transformational for the practice.
What Is Different About Dental Focus Chatbot From Other Chatbots Out There?
First and foremost, our Chatbot is customisable. Many chatbots out there will require you to keep their bot's design – meaning it can stick out like a sore thumb on a dental website you spent a lot of time, money, and care on. This is because those chatbots want your users to know their brands and perhaps sign up to them too. With Dental Focus Chatbot, the design can be tailored to match your brand's colours, include your logo, and have a fully customisable script that attracts your ideal patients.
Furthermore, our chatbot for dentists is very affordable. We pride ourselves on being one of (if not the) most affordable chatbot for dental practice websites and dentists. Converting your website traffic into ideal patients is our endgame, which is why we wanted our service to be a no-brainer for all our clients – which you can see it is from the potential ROI each month.
If you are a current Dental Focus client and would like Chatbot added to your website, simply get in touch with a member of our team and we can get the ball rolling.
If you are not (yet) a Dental Focus client, please feel free to book a Discovery Call with me and we can explore the best ways for you to attract ideal patients.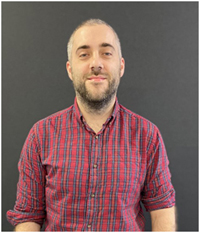 Chris Olson is the Senior Marketing Consultant at Dental Focus. He has worked with 100s of dental practices across the UK and Australia, attracting ideal patients and providing advanced marketing strategies.
---