IAAFA Promo Code only 3 Days Left…
Do you want to increase your website profits from Botox, Dermal Fillers and Facial Aesthetic treatments?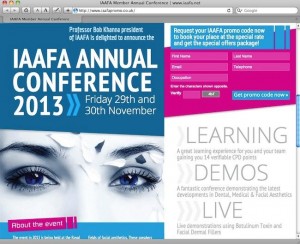 You only have 3 days left to book early for this November's most exciting conference "The IAAFA" ~ International Academy of Aesthetic Facial Academics because delegate tickets go up, Up, UP (again) by an extra £50 each after 30th September. Now is the time to book early but remember to first get your IAAFA Promo Code to qualify for IAAFA VIP Access:
* VIP Badges
* VIP Entrance
* VIP Seating
* VIP Silent Q&A
Get your speaker questions answered first in confidence
* Unlimited VIP Reception Drinks
IAAFA runs from Friday 29th to Saturday 30th November, ending with the Winter Wonderland Charity Ball, possibly the most exciting and anticipated event this year.
Book within 3 days…
Save £50 per delegate
Get VIP Access
and £3,000+ savings!
Exclusive to the IAAFA promo website www.iaafapromo.co.uk
---