Social Media for Dentists is the same as Social Media for everyone else, in the sense that when you need to increase your follows and likes, they both require dedication. Here are a few pointers to help you build your brand effectively and to help you gain followers along the way.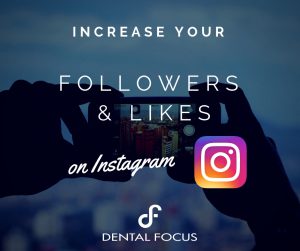 Participate in trends – be current
While it is important to use specialised hashtags to Dentistry such as: #Dentaltreatments #PearlyWhites #Smile, it is also important to use universally trending hashtags like #photooftheday or #instagood to extend the reach of your audience.
If possible, you can link your practice or treatments to current affairs or entertainment trends to boost your engagement. Ask questions where possible to increase interactivity. For example:
"Remain or Leave? That is the question among the teeth of Britain. If you are in the remain camp, visit our practice to keep your teeth IN! If you are in the leave camp, we offer Dental Implant Treatments for those whose teeth are OUT" #DentalImplants #Hygiene #Brexit"

"I bet Venom would use our Invisalign treatments to get his teeth looking straighter! Do you think the film would have been better if he had straighter teeth? #Venom #TeethStraightening #Invisalign"
The more controversial and entertaining your post is, the more engaging it will be. Always look out for how you can be engaging when using Social Media for Dentists.
Offer giveaways and competitions
If you are able to get your followers to tag a friend in the comments, not only does this help with your engagement but there is also a new potential follower who has been notified to look at your post.
A giveaway for a certain toothbrush could be held or perhaps a free consultation, and the only way to win would be by tagging a friend, following the page, and liking the post. With each new tag, they will want to follow and like and possibly even tag someone else! This is the best way to increase followers.
Use Videos and Live Streaming
Your potential patients need a reason to feel compelled to invest in your practice. The best way to do this is by building trust, and to build trust on Instagram, you need to show personable faces, voices and messages. According to Dan Zarella, you are likely to have 35% more likes from posts with faces in them.
The advantage of using live streaming is that it shows the authenticity of your practice and how effective the treatments are in real-time.