Chris Barrow Dental Marketing Blog Secrets
Chris Barrow was voted No.2 in this year's Dentistry's Top 50 most influential. In my opinion, he's the UK's leading dental business coach; a true inspiration. When Chris speaks, you listen. His relaxed sense of humour gets you excited and energized. Check out this short video clip of Chris talking to a fully packed audience at the NEC in Birmingham earlier this year. Then watch my video interview with Chris about his seminar.
Chris Barrow has taught me about "the branded experience" and its great importance in dental marketing. It's his thought leadership that encourages me, everyday, to shape Dental Focus Web Design to be just as innovative and helpful in all our dental web marketing strategies. Enjoy the 2 videos and remember to share this link on your Facebook and Twitter or by e-mail! https://www.dentalfocus.com/marketing/category/chris-barrow/
Video 1: Short Clip of Chris Barrow speaking to a fully packed audience

Video 2: My interview with Chris Barrow after his exciting seminar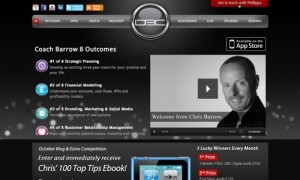 Remember, to get Coach Barrow's latest ideas and tips immediately by e-mail, you need to subscribe to his e-zine and read his blog.
And watch this space, for more exclusive video tips from Chris Barrow.
Krishan Joshi is "the Master" at Dental Focus Web Design.

Remember to subscribe to our Blog of Secrets so you can get the latest dental marketing ideas and video tips immediately by e-mail.

If you would like some free advice, Email Us or call 020 7183 8388.
---