Your Dental Website Address
Everyday, thousands of co.uk domain names are registered on a first-come-first-served basis. Your domain name (e.g. harleystreetsmileclinic.co.uk) will be used for your dental website address (e.g. www.harleystreetsmileclinic.co.uk) and email address (e.g. email @harleystreetsmileclinic.co.uk)
The sooner you secure your domain name, the better. If you don't act quickly, firstly, you will miss an opportunity to get the exact web address you want. Chances are that your domain name is already taken and you will now need to consider alternatives. Secondly, domain name age is one of the 200 over ranking factors in Google's algorithm, albeit a relatively light weighted factor. More importantly, the sooner you launch and establish a relevant dental website, the older your credibility and relationship with Google, which helps your rankings.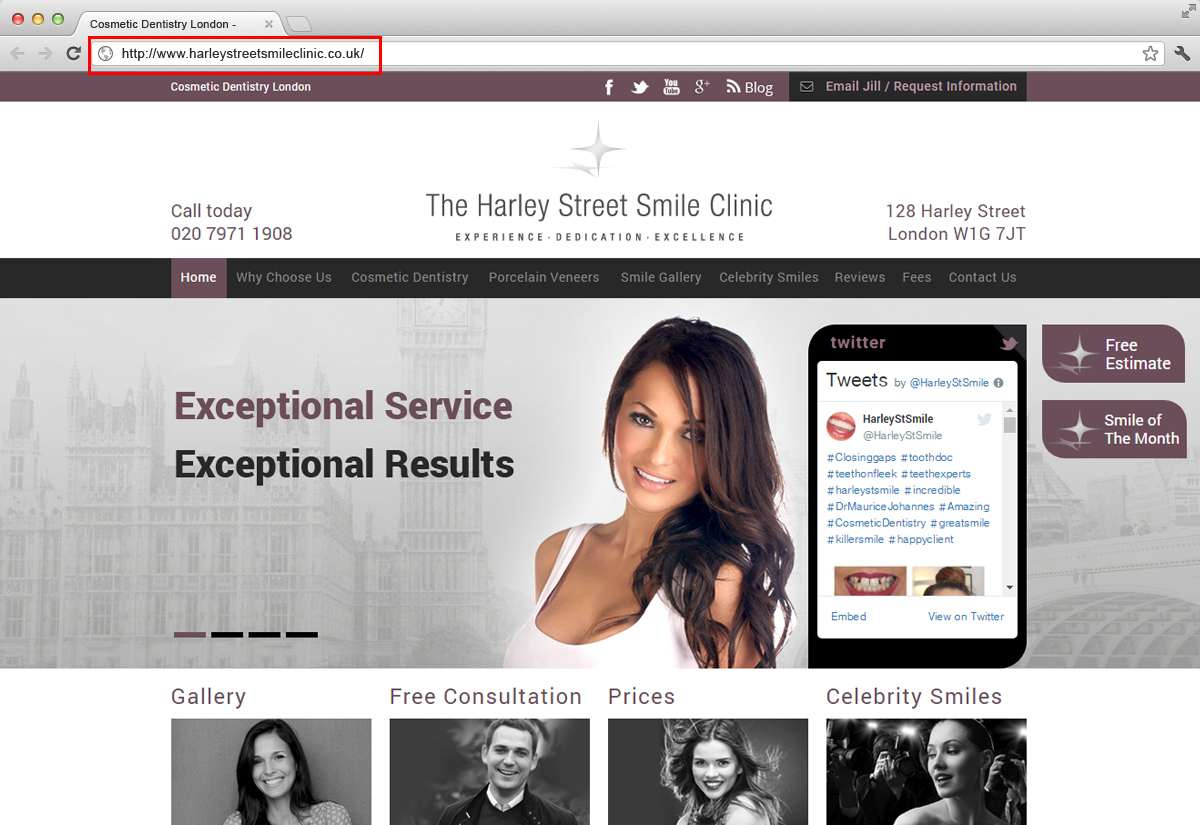 Your website address is your online location, like the postal address of your dental practice. Choosing the right domain name is important to your online dental marketing. When finding a domain name you should consider using words that you wish to be associated with; your practice name is an obvious choice. If Google rankings for your location are your priority, then you should select a domain name with the location keywords.
Keep your domain name short so that your website and email address is short to make it easy to say, spell and remember. You also want to fit your web address into tight advertising spaces (e.g. signage or newspaper advert) and make it both visible and readable from a distance.
A co.uk domain name tells everyone that your dental practice website is UK based. Indeed, in research, 72% of respondents in this country said they would prefer to visit a .uk web site above any other.
Google.co.uk results are different to Google.com (worldwide), Google.ie (Ireland) or any other country. Google deems UK websites to be more relevant for its Google.co.uk search results and thus ranks UK dental web sites higher. Over 80% of all UK searches take place on Google.co.uk so it is very important to indicate to Google that you're a UK dental website. In fact, if your priority is to rank at the top of Google.co.uk, and you don't already have an established dental practice website, then you should use a co.uk web address in order to gain quicker rankings.
Remember not to use the "specialist" keyword unless you are sure the General Dental Council (GDC) will approve. Also be careful not to knowingly infringe an existing trademark name when registering your domain name because the law can easily view your act in bad faith and you will lose that web address to the trademark owner just as easily as you secured it. It's important not to waste your time and money, especially valuable Google rankings, on a domain name you will later lose.
There's no point in dentists buying hundreds of domain names and spending a fortune on renewing them. You only need one web address per dental website. We usually recommend co.uk as the main one to promote but we also secure .com to simply protect your intellectual property.
At Dental Focus Web Design, we help dentists choose and secure their dental website addresses everyday. It's the first decision that you need to get right to ensure your online dental marketing is a success.
Adrian Adler is "the Wizard" at Dental Focus Web Design.

Remember to subscribe to our blog by e-mail so you can get our latest dental marketing ideas and tips immediately – the Internet Marketing Secrets of "WOW websites that find you and convert you!"

If you would like some free advice, Email Us or call 020 7183 8388.
---