Five Star Websites for Google Page 1
Krishan Joshi, Founder of Dental Focus, sheds light on some of the recent changes that affect website ranking.
In the first quarter of 2015, Apple made record profits on sales of iPhones and today, 50% of internet traffic is on mobile devices, meaning that one in two patients is accessing dental websites on a phone or tablet. This familiarity and usability means that patients now expect a great user experience on mobiles as well as on traditional desktop and laptop devices.
Google Mobile Friendly Websites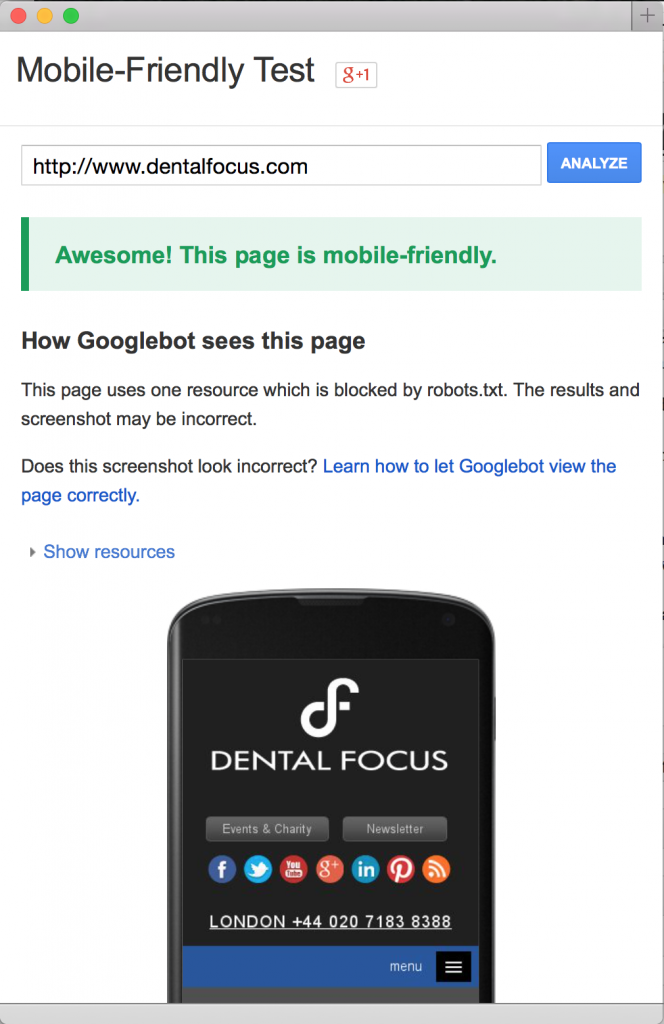 A decade ago web developers faced the challenge of resolving Mac and PC compatibility, but today it's about creating synergy across a range of devices; Samsung, HTC, Apple and many more. The challenge now is to make sure that your website is Google Mobile Friendly across the variety of platforms and brands being used by patients.
But the drive for mobile optimised websites is not just being driven by functionality. On 21st April 2015 Google redefined the criteria by which they rank websites. Before this date, classic websites, which could be read on iPhones and tablets if you pinched the screen and were willing to scroll through the information, were considered mobile-friendly. But not any more. The way in which Google defines 'mobile-friendly' has changed.
Now, to be categorised as mobile-friendly, every page of the website has to be viewable and functional on every type of mobile device. With most surfing taking place during the evenings and weekends, this ensures that the patient gets the best user experience from a website, regardless of the device they are using.
To check your website is Google-friendly, simply go to Google's Mobile Friendly Test, type in your web address and it will tell you whether your site is mobile-optimised. Although we haven't seen any dramatic shifts as yet, and non-Google Mobile Friendly websites are certainly not plummeting through the rankings, over the course of the next 12 months, I expect that these changes will start to filter through and have an effect on their ability to climb to Google page one.
Move with the times
In the last 18 months the world has gone mobile and the pace of technological change shows no sign of slowing down. In creating your website, dentists need to be aware of changing trends and ensure that its capability meets the needs and wants of users. Everyone now has a camera in their hand, courtesy of their smart phone, and to some extent imagery has taken the place of words.
Take the rise of the 'selfie' as an example. This trend has changed the way some dentists interact with prospective patients. By accepting uploads of images onto their website, dentists are enabling patients to send an image of their teeth and ask questions that traditionally they might have needed to describe over the phone or in person. This by no means replaces a formal diagnosis, but does enable the dentist to interact with patients at an early stage of their decision-making and suggest treatments that might be suitable.
To facilitate this type of communication the website needs to incorporate this level of functionality. It makes you and your practice highly visible and attainable and builds engagement and rapport with patients. One word of caution – if this area of your site is not encrypted you must include a disclaimer about patients not disclosing personal information.
Five Star Reviews
A few years ago Google page one became the new version of Yellow Pages, with local businesses listed at the top of the page. Today, Google page one is the new TripAdvisor, and gaining a five-star ranking is now a recognisable sign that you have satisfied customers. In general prospective patients are more likely to believe existing patients' recommendations – so this process is like word of mouth, but by people who don't have any formal connection to each other.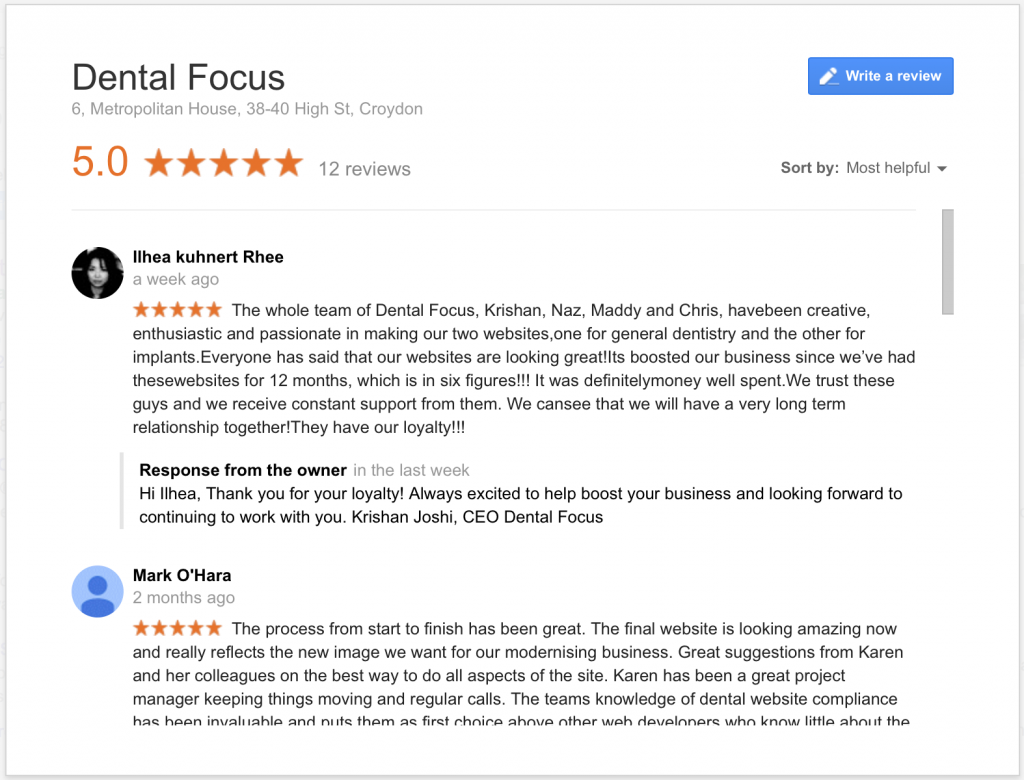 Once you have five stars, these become visible on Google and if you are the first practice in your area to achieve this you stand out, making people more likely to click on your listing. Some of our clients are now recording between fifty and a hundred five stars and they are implementing in-practice systems to encourage patients to give them a five-star review. What our successful clients are realising is that those who prioritise Google page one and make sure they are getting five-star reviews every week are able to build trust with potential patients.
A five star ranking changes people's perception of your practice before they have even viewed your website.
Only people with a Gmail account can give a review on Google, so to encourage patients to post a five-star review, dentists need to ask for a recommendation from every patient with a Gmail account. Having the team on board is important in making any kind of campaign like this work, but if the system is tracked, the team can receive weekly feedback about the numbers of five-star ratings and this can become a great internal motivational tool.
Getting help
This area remains a minefield for dentists, particularly as Google is constantly changing the rules. I am sure that 80% of dentists are not even aware of the five-star ranking process and the benefits it can bring, and a similar number will be unaware of the new rules governing Google Mobile Friendly websites.
Although dentists are big users of technology and understand the user experience from their own point of view, they often fail to understand how this applies to their own patients' use of their website.
Our clients' priority is to attract more patients – it is only when they consider how they are going to do this that they start to take an interest in the different tools that can make this more successful.
For clients who want to give themselves the best chance of success on Google it's about having a Google Mobile Friendly up-to-date website, that is keyword and content rich, created using industry standard coding, which incorporates a blog, YouTube and social media feeds.
Most clients still say that word of mouth is a big factor in attracting new patients. The reality is that when patients are recommending a practice to their friends and family, those friends will still go to the web and search for the practice before they take up the recommendation. So dentists who want to attract the best friends of their patients need to take account of the power of an effective website and five-star ranking.
Call Dental Focus on 020 7183 8388 or email us today to have a chat with Krishan Joshi, Founder of Dental Focus.
---