Psychology of Website Design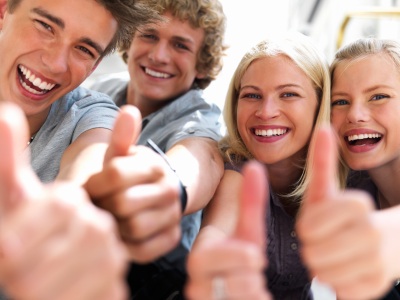 Positive psychology is a more recent branch of psychology that "studies the strengths and virtues that enable individuals and communities to thrive".
We seek to adapt and utilize this for the visual communication of 'positive values' in our web designs for dentists, as this forms the basis of an effective dental marketing strategy. Positive psychologists seek "to find and nurture genius and talent", in other words, to find the positive and "to maximize this, making normal life more fulfilling".
Therefore we set out to find positive, aspirational images of places, people and situations that are relevant to Dental Care. A good web designer is taught: "Always show the benefits and the positives".
The theories of human flourishing developed by humanistic psychologists such as Abraham Maslow, Carl Rogers and Eric Fromm, have found much support from positive psychologists. How do we humanize every situation to make it accessible and achievable? This is the challenge facing the web designers at Dental Focus on a daily basis, as we communicate Dental Marketing values. I taught design once to 'disaffected' youths and I found Positive Psychology to be the way forward. To identify in each individual learner his strengths, the things he enjoyed and excelled at, rather than the negatives that had got him in to trouble. Design is about expression, so we express visually the 'positives'. It worked for me with troublesome teenagers, and it certainly works with professional Dental Practices (who I find a lot less troublesome!). In fact with dental website design, we achieve some quite startling results!
Positive emotions, engagement, and higher hopes are all central to good web design and to Positive Psychology.
Adrian Adler is "the Wizard" at Dental Focus Web Design.

We'd love to hear from you and have a discussion – please leave a comment and rate us!

And remember to subscribe to our blog by e-mail so you can get all our dental marketing ideas immediately – the Internet Marketing Secrets of "WOW websites that find you and convert you!"

If you would like some free advice, Email Us or call 020 7183 8388.
---