The Dentistry Show, NEC Birmingham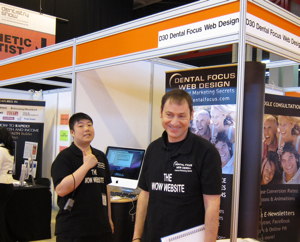 Dental Focus Web Design just came back from The Dentistry Show at the NEC in Birmingham. We created a real BUZZ at our stand by filming short interviews with key, influential people in the dental business. Subscribe to our blog now (on the right hand side) to receive an email notification as soon as these latest videos go LIVE! Watch this space for exciting video tips from Chris Barrow, Jayne Sproson, Bhavna & Rahul Doshi, Smile-on & Dental Tribune, MEDiVision, Appointmentor, Practice Plan and CosTech Elite Dental Lab… as well as Annie from Bridge2Aid. On the Friday @ 11.15am, Krishan Joshi the Master gave an exciting and inspirational talk PACKED FULL of Internet Marketing Secrets! A lot of new ideas and tips for creating "the WOW website" were shared and revealed covering Google Domination, YouTube, Blogs, FaceBook, Twitter and how to CONVERT website visitors into patient leads by increasing your credibility week on week! How you impress your website visitors and potential patients never stops…
Dan the Genie, Adrian the Wizard and Lin the Oracle were all on stand by ready to give free advice on Internet dental marketing, website design and Google rankings. Well, here's what some dentists had to say about Krishan's seminar and the team.
Krishan Joshi is "the Master" at Dental Focus Web Design. We'd love to hear from you and have a discussion – please leave a comment and rate us!

And remember to subscribe to our blog by e-mail so you can get all our dental marketing ideas immediately – the Internet Marketing Secrets of "WOW websites that find you and convert you!"

If you would like some free advice, Email Us or call 020 7183 8388.
---