Dentist Website Design – Personal Marketing
The best dental website design is always personalised to the dentist concerned. Otherwise it ends up being a 'me too' website. You need to show the dental practice, your team, your Unique Selling Points (USPs) and engage with your target patients.
But first you do need to know who you are, how you are perceived and who your patients are. You may think you know this, but often you surprisingly won't. Please check by conducting regular dental practice surveys, do research and speak to your patients. We recommend using www.surveymonkey.com, which has a free basic service for running dental marketing surveys which you can email to patients or have a link to via your dental practice website.
This will then allow your website to engage in the right way with potential patients on a deeper, more emotional and relevant level.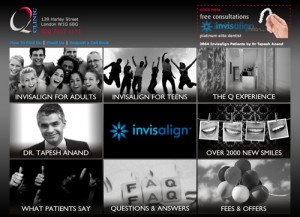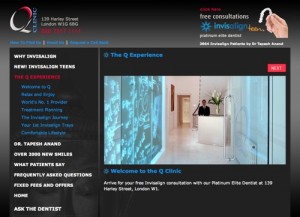 In dental marketing, relevance is crucial. If your website is not relevant to your target patient audience, they will quickly leave your dental website. You need to make your website relevant by:
1) Attractive Design
The right design and branding will have the correct appeal.
2) Credibility
Photos of your professional and capable team are expected. Photos of your smiling patients will prove to patients that you are the expert. Video testimonials will put word of mouth on your website. Hot buttons on your home page can show off special offers and key treatments, this will establish what you're about within seconds of glancing at your home page.
3) Affordability
Special offers and a transparent fee structure will further reassure website visitors. Patients are looking for evidence of fixed pricing.
4) Contactability
Show your telephone number clearly at the top of every page, feature your address, have an email form and an online appointments facility on your dental practice website. A lot of your visitors will be your own patients simply trying to access your website for basic contact details so make the experience easy for them. These days, patients will be using an iPhone, Blackberry or other smart phone while on the move so make sure your website is compatible.
5) Regular Updates
Make your website have a genuine "Point of Difference" by personalising and individualising it. Personalising your website will minimize the chances of visitors 'skimming' it and quickly leaving. Instead, make your website the 'destination' dentist website where patients want to keep coming back. Having a blog and updating your website on a weekly, if not daily, basis with your latest special offers, patient smiles and video testimonials will increase your returning visitors and word-of-mouth!
Your website is simply a reflection of your dental marketing strategy. Be different; stand out by standing for something.
Dental Focus Web Design provides empowerment training for blogs so that you know exactly what weekly and daily updates to make. We are experts in Google domination for multiple TOP Page 1 rankings. Get the right team behind you, get empowered by the Masters!
Adrian Adler is "the Wizard" at Dental Focus Web Design.

Remember to subscribe to our blog by e-mail so you can get our latest dental marketing ideas and tips immediately – the Internet Marketing Secrets of "WOW websites that find you and convert you!"

If you would like some free advice, Email Us or call 020 7183 8388.
---